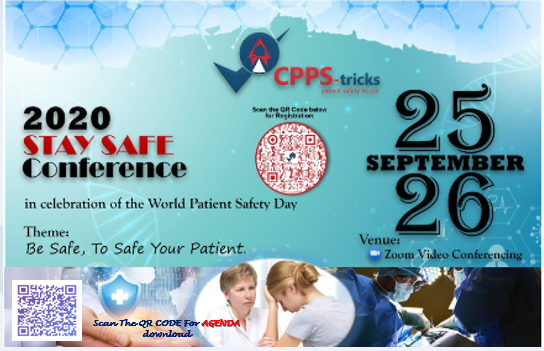 This Event hosted by CPPS-trick on SEPTEMBER 25 & 26, 2020 where you will hear in recorded Sessions from our Expert panelist in Middle East in truly engaging and powerful discussion.
In safety culture, one essential expectation for Care process and workforce is TO BE ORGANIZED FOR SAFETY, that need other expectation for employees to maintain their Owen health and well-being.
As a caregiver You need to Consider for a moment the ways your workforce supports your healthy behaviors as a member in Multi-Team System, MTS for Patient Care.
As a caregiver, you need to Be Safe, To Safe Your Patient" where Health care has one of the highest rates of illnesses and work-related injuries among industries.
Ensuring the safety and well-being of the health care workforce is integral to any effort to advance patient safety
So as a caregiver, you must be aware of the degree to which You are "fit and ready" to deliver safe care and becoming a Healthy member as You Contributes to a Healthy Nation.
All rights are reserved © 2019-2022 CPPS-tricks (Patient Safety House)